Vyntus™ BODY Plethysmograph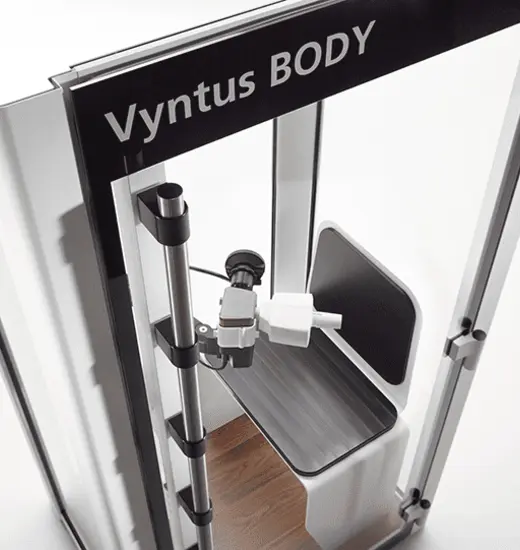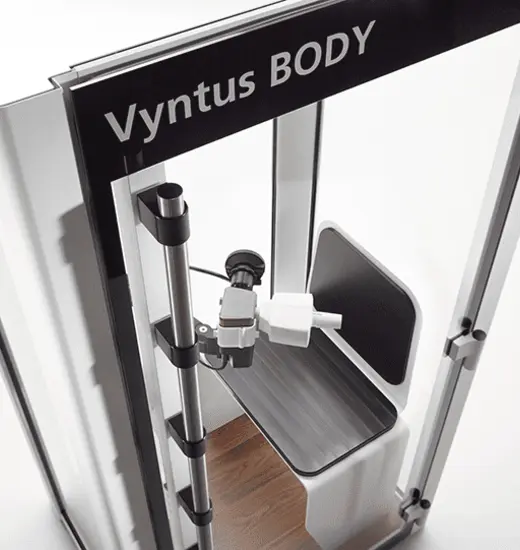 Vyntus™ BODY Plethysmograph
People come in all shapes and sizes, so we designed Vyntus™ BODY to accommodate most patients without increasing the cabin footprint. Many enhancements were incorporated to make Vyntus™ BODY accessible and user-friendly for both patients and technicians.
Vyntus™ BODY employs much of the same breakthrough technology found in the Vyntus™ ONE, but with a redesigned breathing circuit and our new Ultrasonic Sensor Technology.  In addition, Vyntus™ BODY is enhanced with additional innovation such as digital pressure compensation, which helps to reduce environmental influences and improves measurement accuracy. Visit our Knowledge Base and learn how the latest SentrySuite™ software helps you achieve the best possible results according to the latest ATS/ERS 2019 Spirometry guidelines.
Please note that all products, services, or features of products and services may not be available in your local area. Please check with your local Vyaire representative.
Flexible Telescoping Arm extends 25" outside the cabin, delivering exceptional maneuverability to your patient's unique position.
Vyntus BODY readily accommodates wheelchair patients or others who are unable to enter the cabin. This flexibility makes it easy for the technician. The Telescoping Arm requires little maneuvering effort. It stays right where you place it with no tool or locking mechanisms required.
Patients must feel at ease for any technology to perform at its best. So, to help patients feel less anxious and more comfortable, we re-imagined everything from materials to ergonomics.
Vyntus BODY offers a spacious plethysmograph (1,110 L) and is equipped with a reinforced bench supporting up to 551 lbs. The all-glass cabin and glowing LED status lights help to create a welcoming environment for most patients.
To make entering and exiting as easy as possible, Vyntus BODY offers a less-than-3-inch step-in clearance and a prominent, stable grab bar. Vyntus BODY's many features help technicians create a confident and successful testing event.
We re-engineered every facet of our breathing circuit and our box-specific technology to bring improved ease-of-use and accuracy to Pulmonary Function Testing.
Examples of this include the Vyntus Ultrasonic Sensor which is factory calibrated, requiring only simple verification. Additional features, such as Dynamic Flow Correction and Double Shot Technology, help eliminate drift and obtain high levels or precision and accuracy. The flow path valve uses a simple, precise, magnetically-controlled shutter free of balloons.
The Vyntus BODY box itself employs Digital Pressure Compensation which monitors environmental fluctuations in real-time, providing a cleaner signal and more precision.
Maintenance and hygiene are not the most productive or exciting parts of a clinicians day but are critically important for patient safety and diagnostic excellence. We've spent a lot of time minimizing what our Vyntus systems require to keep you focused on your patients.
Smartly designed hardware does not utilize balloons or complicated valves. Just a few robust parts, making disassembly and reassembly a snap.
Components tolerate manual or automated cleaning and disinfection processes. The ultrasonic sensor is waterproof and dishwasher safe up to 140 F.
Tool Free O2 cell notifies you when a replacement is needed and lasts typically 2 years. When it needs changing, it is easy to do with tool free access. No need for a service call.
MicroGard II filters offer validated filtering efficiency without compromising system performance. With MicroGard II in use, hygiene routines take less time, since cleaning and disinfection is required only every 6 months. B

ased on the Bio Burden DIN EN ISO 11737-1: Report 18AA0193.